Give Your New Puppy the Best Start in Life
Next Puppy Preschool Starts January 22nd 2020  
The sounds of Santa's sleigh bells are a distant memory, leaving you the precious puppy you have always wanted. Then the reality check. So far the kids' presents have been chewed/shredded and the Christmas tree has seen better days. 
We've all been there. The chewed shoes (usually your favourites), the toilet training frustrations (messes where they shouldn't be at the most inconvenient times) and a gorgeous garden destroyed in weeks! 
We all want to know that we are giving our newest friend the best start in life…Right 
This time is fun but challenging for the best of us. This is why we have developed our own Puppy Preschool. 
Puppy School is like Kindergarten for puppies. In a safe place, puppies of the same age can mix and learn to be good dog citizens. 
No one wants 'that dog,' the one that barks incessantly at every new dog it sees. thought to many that's close together.
No one wants 'that dog,' the one that continually leaves smelly (and wet) surprises around the house.
No one wants 'that dog,' the one that jumps all over people every time they see them!
BUT there is A LOT more to puppy school than just socialising!
We

EDUCATE YOU

in Humane Positive Rewards based dog training – a life long skill for you, (the reward) your puppy will happily do what you say! They will learn to sit, stay, recall, leave?, settling on a mat and road safety. We might also try a few fun tricks on the way.

You will

LEARN

what is normal puppy behaviour and how to

AVOID PUPPY TANTRUMS

and behavioural problems 

You will learn how to

DEAL WITH PUPPY CHALLENGES

: effective

TOILET TRAINING

, understanding

BARKING

,

GROWLING

and

CHEWING

and limiting the overbearing

JUMPING

and any other issues you find along the way;

You will graduate with

DETAILED INFORMATION

on how to keep your puppy

SAFE

and

HEALTHY

for life:

We will set you up with

OUR LIFE STAGE CHART

so you know what to expect and when.

How to

CONTROL FLEAS, TICKS AND WORMS

and why.

PROTECTION from INFECTIONS

and how important

VACCINATIONS

are.

Puppy

NUTRITION

and how to choose the best food.

Learn about what you can catch from your pet and how to prevent it.

We will turn YOU into AMATEUR VETS and you'll learn to check your puppy's general health and be on the watch for any changes.

GROOMING, SKIN CARE, EAR CARE

and become an EXPERT at the often dreaded

NAIL TRIMS

. teeth cleaning?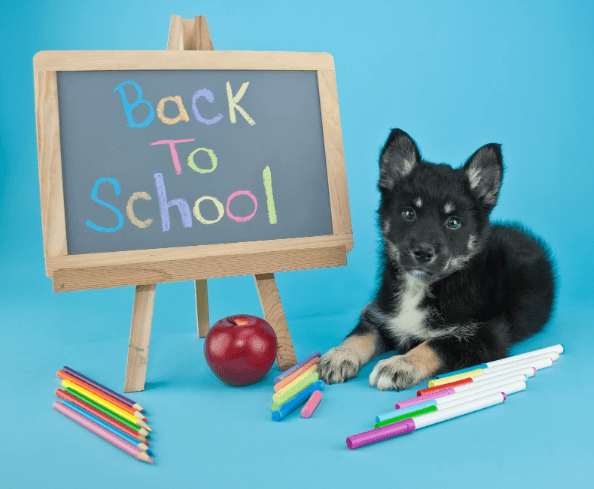 In just 4 weeks of classes (and with our guidance or a bit of effort on your behalf) you can have a well behaved pup! 
Our classes provide the latest information on puppy care, leaving you with the confidence to best look after the newest member of your family. 
Our Puppy Preschool is awesome for first time "puppy parents" or for anyone who wants to brush up on the latest information. Health care has advanced massively so give your new puppy the best start in life. 
AND THE BEST PART…….?
It does not cost anything! 
All we ask for is a $95.00 deposit to hold your space in the class and after successful graduation and completion of ALL lessons this money is credited back to you (to your file incase they think it's physically returned to them) for use on ANY of our Veterinary products or services!
Classes run between 6-7 pm on Wednesday nights and open to puppies 8-14 weeks of age. 
We limit the class size to 6 spaces per class so you can get the personal attention you and your pet deserve. We have 4 available right now for those that act quickly! 
You can book you place here Puppy School Enrolment or call us 9702 8811. But don't delay spaces are very precious this time of year. 
Don't miss out on this fantastic offer!
By accepting you will be accessing a service provided by a third-party external to https://hamptonparkvets.com.au/