What's New at HPVH?
We are very excited about the latest additions to our in-house diagnostic equipment, allowing us to take even better care of you…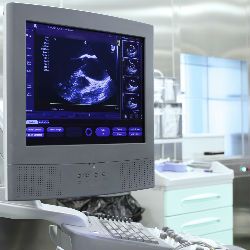 It's been a big year at Hampton Park Veterinary Hospital so far. We already have the facilities available to look after almost all your pet's needs under the one roof. Whether it's your pet's annual vaccination and a general thorough health check, or if your pet is unwell, we can help. We have in-house blood testing available, so that you can get results quickly. If your pet needs surgery, even including some types of orthopaedic surgery, we can look after your pet here without the stress of travelling further away. Xrays and ultrasound can be performed right here. If your pet requires an intravenous drip and a stay in hospital, we can keep them comfortable without them having to travel anywhere.
At HPVH, we pride ourselves on being up to date with the latest in veterinary medicine and surgery, providing the best possible care for your pet. Because of this, we are very excited about the latest additions to our in-house diagnostic equipment – a digital dental xray machine, and a new and improved ultrasound machine.
Full mouth dental xrays allow us to check the health of the teeth and jaw below the gum lines. Seeing the crown of the tooth is like only seeing the tip of the iceberg - most of the tooth (and most of the dental disease) is actually beneath the gum line. In cats, at least 67% of dental disease occurs below the gumline, and can only be detected by xrays. If left undetected, these diseases can lead to unnecessary pain and suffering for your pet. Worse, even if the teeth look ok on the surface, disease below the gumline can result in infections that spread to the blood stream and vital organs such as the liver, kidneys and heart. There is also a huge relationship between premature death and dental disease in people, which is likely also true for our pets. Early detection with dental xrays allows for earlier treatment, and better health outcomes for your pet.
Our new ultrasound machine allows a much more detailed view, which means that if your pet requires an ultrasound, we will be able to pick up even more subtle changes than we were able to previously. This gives us more information and allows us to pick up health problems even earlier, which often leads to better treatment outcomes and a longer, happier life for your pet!
By accepting you will be accessing a service provided by a third-party external to https://hamptonparkvets.com.au/